RELOAD!
I. Why Should You Reload?
SAVE MONEY

By reloading you can save 50% or more compared to the cost of factory ammunition. This allows you to shoot twice as much for the cost of loaded ammo or the same amount for half the cost.
BECOME A BETTER SHOOTER

Through reloading you will develop a much keener knowledge of shooting technology and be able to tailor your ammo to a particular firearm. Also, you can shoot more for less, and practice makes perfect.
IMPROVE ACCURACY

By careful experimentation within prescribed loads, you can improve your accuracy for hunting or target shooting. And you can match your ammunition to the type of game you are hunting or your particular kind of target shooting.
HELP THE ENVIRONMENT

Reloading requires you to save empties, thus preventing litter in the field or on the range. Besides, the case or hull is often the most expensive part of a loaded round, so saving your empties saves you money.
HAVE FUN

Reloading allows you to stay in close touch with shooting, even during the off season. It is an enjoyable pursuit that enhances shooting knowledge and ability.


II. Where You are Going to Reload
A STURDY PLATFORM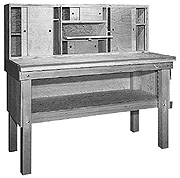 Reloading tools and presses must be mounted on a sturdy platform because loading exerts considerable leverage pressures. The best place to load is a well-designed reloading bench, though the family workbench will often suffice.


III. What Happens When You Reload

METALLIC RELOADING: THE FIRING SEQUENCE

firsequence.gif

1. Firing pin strikes and ignites primer

2. Burning primer mixture travels through flash hole to ignite powder

3. Burning powder gasses expand case to fill chamber

4. Bullet is forced from case, accelerated down barrel

5. Case cools, shrinks to nearly original size, allowing case to be ejected

METALLIC RELOADING: THE RELOADING SEQUENCE

1. Examine cases before loading and discard any that are not in good condition

2. Fired case is held in reloading press by shell holder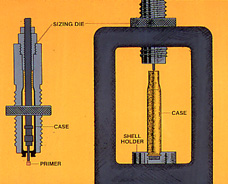 3. Resizing die sizes the case back to original dimensions and removes spent primer

4. Case should be measured and may need to be trimmed to original dimensions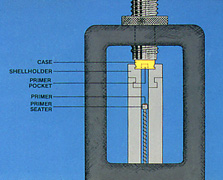 5. A priming tool seats new primer in primer pocket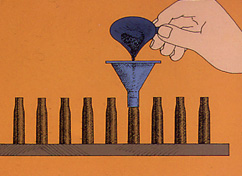 6. Primed cases are filled with a carefully measured powder charge. You must follow prescribed data in a reloading manual
7. A bullet seating die seats a bullet into the neck of the case to the proper depth, completing the cartridge. With some handgun and rifle dies, the seater also crimps the case into the bullet, preventing bullet movement under recoil



Special Step for Handguns
Most handgun die sets have a third die that expands or "bells" case mouths to accept new bullets




What You Need to Reload


METALLIC CARTRIDGES
Equipment: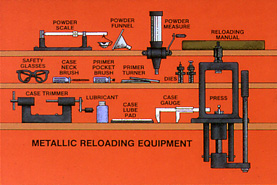 * Reloading press (one press for rifle and handgun cartridges)
* One set of dies for each cartridge to be reloaded
* Shell holder for each cartridge to be reloaded
* Powder scale
* Powder measure
* Powder funnel to aid charging
* Powder trickler to bring charges to exact weight
* Loading block to hold cases
* Caliper or case length gauge
* Case trimmer
* Case trimmer pilot for each caliber you load
* Priming tool (press may be equipped for priming)
* Case lube pad and lubricant (or spray lube)
* Case preparation tools including case neck brush, primer pocket cleaner, deburring/chamferring tool


Components:

* Empty cases of the cartridge you are loading
* Primers-check reloading manual for appropriate size
* Powder-check reloading manual for suggested types for your cartridge
* Bullets-select the right bullet diameter, then choose the bullet weight you want to shoot


Literature:

* Reloading manual published by powder and bullet companies which describes precise loading data for each cartridge.

NEVER ATTEMPT TO RELOAD WITHOUT CONSULTING A RELOADING MANUAL!


WHERE DO YOU GO FROM HERE?

After you decide what cartridges you want to load, focus on learning. A famous rifleman once said, "Reloading takes thirty minutes to learn and thirty years to perfect." Read at least one reloading manual's reloading tips, talk to knowledgeable reloading professionals and call technical service lines if you have questions. Most importantly, reload!